Mayor Vic Fedeli 2003-2010
Few people get an opportunity to re-shape a City, and Vic Fedeli took great advantage of his opportunity while Mayor of the City of North Bay. As a first-time candidate, Vic ran for Mayor in 2003, and was elected with a 75% majority. He was re-elected in 2006, with a 2nd landslide victory.
He and his team of Councillors and staff went on to change the look and feel of the City, while adhering to the principle of 'the 3-legged stool' – where all decisions must take the Financial, Social, and Environmental aspects into account.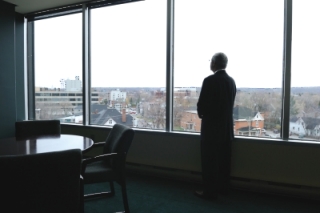 In a few short years, the City was transformed. Where North Bay once had the lowest reserves in Ontario, the financial fortunes of the City were restored, with Moody's bumping the City up 5 points in 7 years – all the way to their top ranking. Council, through the Social Services Board, approved the first social housing to be built since the 1990s – the only community in Ontario to make it happen by investing municipal taxes. And North Bay was the only community its size to invest in a power generation facility, making electricity from methane at the Municipal Landfill.
Simply put, they restored hope and they restored solvency.
As a result, building permits, which had a 10-year average of $35 million, skyrocketed to over $90 million – and that was during the recession in 2009; and the population rose from 52,771 to 53,996.
There were a few highlights along the way. The main feature of Vic's term centred around his '2020 Vision' – where he saw the City in the year 2020, and a plan to get there.

Click Here to view Vic's 20/20 Plan for the City

Click here to see Vic's Record as Mayor

Click here to read about the Buy American campaign


Click here to read about the Boxing Day Think Tanks