Vic Fedeli MPP - Nipissing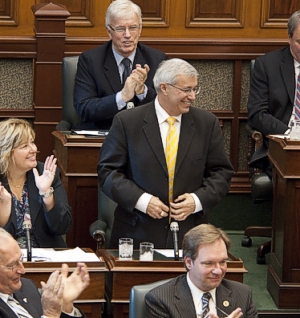 Welcome to my website! Let me first thank you, the residents of Nipissing, for electing me as your Member of Provincial Parliament. I truly am humbled by your support will continue to work very hard on your behalf and bring your concerns to the forefront at Queen's Park.
It's my promise to you that Nipissing's voice – our voice – will be heard. Whether it's the future of Ontario Northland or working to ensure development of the Ring of Fire mining discovery helps create prosperity in our riding, rest assured that Northern Ontario concerns are my first priority.
As well, I pledge to work with my caucus on three critical areas necessary to returning Ontario to economic prosperity – the creation of good paying private sector jobs; reining in runaway government spending; and providing much needed relief to Ontario families. It's a formidable task, but my sleeves are rolled up, and we're ready to start the hard work required to get Ontario back on the right track.

Click here for News Releases

Click here for Correspondence Regarding the ONTC

Click here to Download the Tire Eco Fee Petition New


Click here to Download the WSIB Petition

Click here for news from the Energy File

Click here for MPP Expenses Year Ending March 31, 2012

Click here for the Photo Gallery


Click here to order your Celebratory Scrolls


Click here to download your own Petition Form (in PDF format)